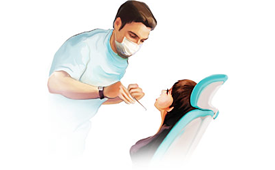 nearly three out of every four people will get some form of gum disease sometime in their lives and if it goes untreated it can lead to periodontitis and even tooth loss.



causes plaque: The root cause of gum disease, irregular brushing and flossing is a major cause for accumulation of plaque. Plaque when hardens turns into tartar(calculus)
Diet: Nutritional deficiencies or excessive alcohol consumption.
Habit: Smoking, Chewing tobacco, clenching or grinding teeth, or even improper use of toothpicks
Oral/medical condition: Unattended dental cavities, failure to replace missing teeth, unaligned teeth, ill fitting bridges and dentures, broken fillings, diabetes, pregnancy and certain medications like oral contraceptives, steroids etc.



warning signs of gum disease (FROM PAPER)

-Bad taste in your mouth
-Bad breath/halitosis.
-Red and swollen gums
-Gums that bleed easily
-Teeth that feel loose/migrating/shifting.
-Sensitivity.
-Mobility.
-Space appearing between teeth.